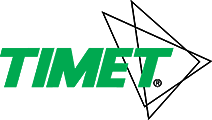 Titanium Metals Corporation (TIMET) is one of the world's largest fully integrated titanium producers and the only North American sponge producer.
Since 1950, TIMET has been leading the industry in mill and melted products, supplying nearly one-fifth of the world's titanium. We convert rutile ore into sponge; melt and refine ingot and slab; and manufacture mill products.
TIMET has a global network of service centers supported by its seven primary melting or mill facilities in Henderson, Nevada; Toronto, Ohio; Morgantown, Pennsylvania; Vallejo, California; Witton, England; Waunarlwydd, Wales; and Ugine, France.
With products ranging from sophisticated high temperature alloys used in jet engines, to advanced corrosion resistant alloys used in the chemical industry, TIMET's reach spans the breadth of the titanium applications, and has the technical depth to support developments across a wide range of applications.
TIMET's fully integrated supply chain, dedicated research facilities, and decades of experience make us the partner of choice for titanium.